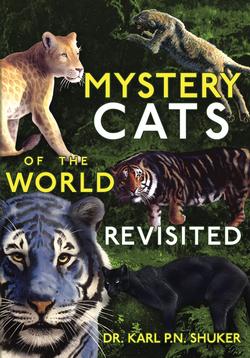 Mystery Cats of the World Revisited
Blue Tigers, King Cheetahs, Black Cougars, Spotted Lions, and More
by Karl Shuker
Trade Paperback, 414 Pages
$29.95, ISBN: 978-1-949501-17-9
Genre(s): Cryptozoology
Blue tigers, king cheetahs, black cougars, spotted lions...
water leopards, rainbow jaguars, transcaucasian demon cats,
mexican onzas, surviving saber-tooths, feline mega-marsupials, and more.
Mystery Cats of the World Revisited investigates the breadth and depth of the mystery cat phenomenon around the world. What are these enigmatic cat-like animals that have been glimpsed in wild and lonely areas of the world? Are they exotic wild animals that have escaped from captivity, or just common creatures improperly observed? Or could some be genuinely elusive cat forms still unknown to science or supposedly long extinct? According to scientific conventions, these mystery cats cannot exist, but they have attracted increasing attention from natural historians and the public worldwide.
This fully illustrated work, presented in a beautiful large format paperback, is an updated, greatly-expanded edition of Karl Shuker's very first book, Mystery Cats of the World, a classic of the cryptozoological literature, now highly sought after by collectors and lauded by cryptozoologists and mainstream zoologists alike for its scrupulously scientific, objective analyses. This new edition examines many new mystery cats reports as well as revisits those previously featured in the original 1989 edition. As such, it remains the only indisputably definitive work on mystery cats in existence.
About the Author:
Dr. Karl P.N. Shuker is an internationally recognized zoologist with expertise in cryptozoology, animal mythology, and wildlife superlatives. He obtained a BSc Honors degree in pure zoology at the University of Leeds (U.K.), and a PhD in zoology and comparative physiology at the University of Birmingham (U.K.), and works as a freelance zoological consultant and writer, living in the West Midlands, England. The author of 32 books and countless articles, Dr. Shuker is also the life sciences consultant for Guinness World Records, has acted as a consultant and/or contributor for many other publications and TV shows, and has travelled throughout the world during the course of his researches. He is a Scientific Fellow of the prestigious Zoological Society of London, a Fellow of the Royal Entomological Society, a Member of the Centre for Fortean Zoology and other wildlife-related organizations, and is also a Member of the Society of Authors.
---
---
New Preface (2020)
Original Preface (1989)
Original Foreword (1989) by Paul and Lena Godsall Bottriell
Introduction
Chapter 1: Great Britain—Surrey Pumas and Exmoor Beasts
Chapter 2: Ireland and Continental Europe—Daemon Cats and Scimitar Cats
Chapter 3: Asia—Multicolored Tigers and Mint-Leaf Leopards
Chapter 4: Africa—Cheetahs with Stripes and Lions with Spots
Chapter 5: North America—Panthers Aplenty and Bobcats of Blue
Chapter 6: Mexico and Central/South America—Onzas and Jaguaretes
Chapter 7: Australasia—Queensland Tigers and Emmaville Panthers
Chapter 8: Final Thoughts—Conclusions and Conservation
Appendix 1: King Cheetahs in Asia?
Appendix 2: Alleged Sightings of North American Black Pumas/Black Panthers Posted on ShukerNature by Readers
Appendix 3: A Black Puma at London Zoo?
Glossary
Selected Bibliography
Acknowledgements
About the Author
Author Bibliography
Index of Animal Names
What they're saying:

"This book is described as a revision and update of the author's earlier book, Mystery Cats of the World, published in 1989, but in many respects this volume is an entirely new work...Shuker analyses reports of these and other anomalous creatures in great detail, examining the likelihood of hybrids, mutations, survivals of believed-extinct populations, and completely new species previously unknown to science...It is worth pointing out at this time, that this is a very serious and rather specialist book. It is not a compendium of tales about 'weird animals', although it contains many fascinating stories from the indigenous peoples of many countries, as well as accounts from zoologists, explorers, anthropologists, hunters and colonial officials. It is a serious zoological monograph. But Shuker... is a writer who can explain this complex topic clearly...In his final thoughts the author makes an important point. Although the discovery of a new species through cryptozoological research would be a triumph, he suggests that cryptozoology is capable of an even greater achievement, preventing a species from becoming extinct before its existence is even formally recognised by science." — John Rimmer, Magonia
"At long last, after 31 years, the first book by noted British zoologist and cryptozoologist Karl Shuker has been expanded and updated. Mystery Cats of the World first appeared in 1989 and was the only book to review feline cryptids worldwide. In this 2020 edition, Shuker repeats this admirable achievement, and in the process gives us a solid overview of current knowledge of felid evolution, taxonomy, and genetic variation. In fact, the only feline mystery cat he does not describe is Hello Kitty. This edition will leave you purring with cryptozoological delight." — George M. Eberhart Journal of Scientific Exploration
"Interesting and informative, this is a meticulous look at the world of feline rarities and oddities, illustrated with black and white photographs...Throughout the book, Shuker's passion for the subject is clear. He has done much to promote interest in mystery cats, not only within the fortean/cryptozoological communities but also within the framework of scientific orthodoxy."— Sue Hardiman, Fortean Times