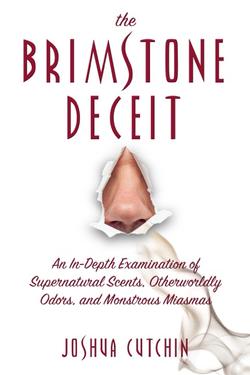 The Brimstone Deceit
An In-Depth Examination of Supernatural Scents, Otherworldly Odors, and Monstrous Miasmas
by Joshua Cutchin
Trade paperback, 454 Pages
$24.95, ISBN: 1938398645
Genre(s): UFOs Cryptozoology Fortean
SOMETHING FOUL THIS WAY COMES
Witnesses the world over claim to see spirits, UFOs, Sasquatch, and other phenomena that are not supposed to exist. Most cannot believe their eyes, yet some of these observers have also detected evidence of a more ephemeral nature—odors abound, in particular the stench of brimstone.
In the first book of its kind, Joshua Cutchin, author of the highly praised A Trojan Feast, documents these uncommon scents and poses a startling possibility... that smell is a sense ripe for deception.
We trust our eyes and ears, but should we trust our noses?
About the Author:
JOSHUA CUTCHIN is a native of North Carolina with a long interest in Forteana. He holds a Masters in Music Literature and a Masters in Journalism from the University of Georgia, and currently resides in Roswell, Georgia. His first book was A Trojan Feast: The Food and Drink Offerings of Aliens, Faeries, and Sasquatch, published by Anomalist Books. Cutchin is also a published composer and maintains an active performing schedule as a jazz and rock tuba player, having appeared on eight albums and live concert DVDs. He can be regularly heard on the weekly Where Did the Road Go? midweek podcast, and maintains an online presence at JoshuaCutchin.com.
---
This book is also avaialbe in hardcover!
Read the strange way in which the title of this book came about in How a profound synchronicity led to the title of The Brimstone Deceit.
And don't miss Cutchin's first book: A Trojan Feast: The Food and Drink Offerings of Aliens, Faeries, and Sasquatch
---
Contents
Part I: Introduction
Chapter 1 – Why Smells?
Chapter 2 - An Olfactory Primer
Chapter 3 – Sulfur
Part II: Spirit Smells
Chapter 4 - A History
Chapter 5 - Pleasant Fragrances
Chapter 6 - Smoke
Chapter 7 - Decay And Sulfur
Chapter 8 - Miscellany
Chapter 9 - Loose Ends And Theories
Part III: UFO Smells
Chapter 10 - A History
Chapter 11 – Miscellany
Chapter 12 - Sulfur
Chapter 13 - Ozone
Chapter 14 - Chemicals
Chapter 15 - Burning Odors
Chapter 16 - Misidentification and Speculation
Part IV: Sasquatch Smells
Chapter 17 - A History
Chapter 18 - Animal Odors and Scent Glands
Chapter 19 - Garbage, Decay, B.O., and Burning
Chapter 20 - Sulfur, Strangeness, and Screen Memories
Part V: Other Anomalous Smells
Chapter 21 – Various Entity and Monster Odors
Part VI: Speculation
Chapter 22 – Observations
Chapter 23 – Altered States
Epilogue: An Alchemical Answer
Acknowledgements
Endnotes
Bibliography
Index
What they're saying:

"The Brimstone Deceit can rightly be called an instant classic because it articulates a refreshingly original approach to the paranormal and more importantly, how witnesses interpret their experiences. Joshua Cutchin carefully builds his case with fascinating, startling, and entertaining accounts from throughout history to show us that when it comes to UFOs, Bigfoot, and other high strangeness, the nose may really know what has been knocking at our doors for millennia." — Greg Bishop, author of Project Beta
"This book stinks! The Brimstone Deceit brings a fascinating new dimension to the anomalistic sensorium." — Mark Pilkington, author of Mirage Men
"Joshua is like a breath of fresh air in this community. He continually looks at these fringe and Fortean topics from an entirely new angle...Once again Joshua Cutchin knocks it out of the park!" — Kyle Philson, Expanded Perspectives
"Cutchin's temperament is truly fortean, both tentative and self-critical...I respect Cutchin's clear intelligence and clever approach... There may be the stuff of fortean greatness in him." — Jerome Clark, Fortean Times
"Cutchin's book is almost everything one could ask for in a study of the olfactory dimension of the realm of supernatural literature. It collects around a thousand accounts of smells found in supernatural experiences. The primary three genres it gets its accounts from are ghost stories, ufo literature, and Sasquatch encounters. It crucially however has a chapter that extends the findings to such Forteana as MIBs, lake monsters, chupacabras, flying dragons, black cats, black dogs, dog-men, black-eyed kids, and faeries. The sasquatch material is quite remarkable, Cutchin presenting a surprising diversity of descriptions that seems a veritable 'can you top this?' array of repulsive smell combinations that is only one shy of being universally bad in their hedonic valence." — Mrherr Zaar, Facebook
"The Brimstone Deceit is a gripping and eye-opening examination of how, why, and under what specific circumstances odors play notable – arguably, integral – roles in encounters of the paranormal kind...[In the process], Josh tackles such issues as psychedelics, altered states, stage-managed events (by who or what, is the big question), deception and manipulation of the witnesses, and much more...Josh goes down the path taken by John Keel, who came to believe that the many and varied unknown 'things' which intrude upon our world are somehow all part and parcel of something bigger, something interconnected." — Nick Redfern, Mysterious Universe