Here's a roundup of recent accolades. In his review of Worlds Before Our Own, Bob Rickard at Fortean Times notes that author Brad Steiger's "influence on forteana equals John Keel's on ufology." He then goes on to say: "From the prodigious Anomalist stable comes another breeze from the past..[the book's] thesis is that before conventional 'prehistory,' there could have been a large, possibly global, and culturally advanced civilization…This is a refreshing glimpse of original sources unfiltered through the likes of von Daniken, Charroux, Tomas and more modern writers." The tagline reads: "An inspiring and ground-breaking blast from the past." Brad told us he was quite touched by Bob's review. So were we.

Next comes Bill Chalker's review of An Alien Who's Who from The Ufologist Magazine, published in Australia. Bill's lack of fascination with the contactee realm clearly tempers his opinion of the book: "The UFO saga has spawned what must be the most bizarre Who's Who in history. We have the prolific watcher and commentator on the historical, cultural, and psychological facets of UFO culture, Martin Kottmeyer to thank for [this book]….[It's] an intriguing testament as to why the aliens of contactee tales inspire little confidence, and the why normally nameless abducting aliens seem more substantive. A matter of debate, I suspect, and Kottmeyer's guide book may provide a helpful calibration point. It is from that perspective that his book is a welcome contribution."

And last, but certainly not least, John Carlson of The Paranomalists reviews Extreme Expeditions. "The book is a firsthand account of Adam Davies's experiences taken directly from his travel diaries while visiting various remote–and often dangerous–areas of the globe, pursuing his dream of finding and scientifically documenting the existence of so-called 'legendary' creatures (known as cryptids, for those who are unfamiliar). Besides being an enormously entertaining and frequently riotously funny read, Extreme Expeditions is, I felt, a very moving account of a man that is motivated by both a fascination for these creatures and a deep concern for their safety and preservation…I came away from reading his book with deep respect for the man's sense of purpose and sheer determination."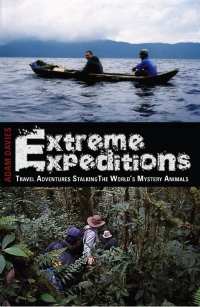 Extreme Expeditions: Travel Adventures Stalking the World's Mystery Animals by Adam Davies is getting a lot of thumbs-up reviews. The first to appear was entitled "Monsters! Booze! Jungles! Guns!" at Nick Redfern's blog, There's Something in the Woods… Wrote Nick: "If you're looking to find out what really goes on behind-the-scenes during the course of a quest for monsters in exotic locales, then this is most definitely the book for you…Easy to read, packed with adventure, intrigue, humor and (of course) monsters, Extreme Expeditions is a book that's entertaining, informative, memorable and instructive…" Then came Matt Bille's review, entitled "A terrific read," in Matt's Sci/Tech Blog. The book, wrote Bille, "is not your average cryptozoology book. Davies spends a minimum of time rehashing old evidence and instead tells a rollicking first-person adventure tale…The book is a jaunty, sometimes profane tale of colorful but basically sane people making a sincere, sometimes dangerous effort to solve zoological mysteries." Bille liked the book so much, in fact, that he wants Davies to do an encore: "I look forward to a sequel, if Davies survives his future expeditions long enough to write it."

We've never met Adam Davies but from all indications he seems to be as nice a guy as you'll ever meet. And there's no question that when it comes to hands-on cryptozoology, he's got a passion for it like no one else in the world. He doesn't claim to be an expert on the subject; in fact, he defers to people like Loren Coleman and Karl Shuker when it comes to actual knowledge of the cryptids themselves. But we don't know of anyone else who spends just about all their vacation time — and much of their discretionary income — traveling to some of the world's most inhospitable and unexplored places looking for mystery animals such as the mokele-mbebe, Nessie, Selma, orang pendek, Almas, and the Mongolian Death Worm. Congo? He's been there more than once. Sumatra? Ditto. Mongolia? Check. And Norway and Scotland, too, though we're not claiming these are either inhospitable or unexplored! You've probably seen Adam on documentary programs on television and his discoveries have made headlines in newspapers around the world. Quite remarkable for a mild-mannered Civil Servant in the UK, wouldn't you say? But don't let your guard down. His new book, Extreme Expeditions: Travel Adventures Stalking the World's Mystery Animals, is a very raw travel adventure. The warning label we put on the book might strike you as humorous and in a sense it is. But it's all true. "FOR MATURE AUDIENCES ONLY: Foul language, excessive drinking, sexual situations, and encounters with some creatures of the natural world that would scare young children and more than a few adults as well." Enjoy.