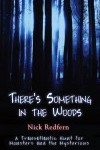 Nick Redfern will be promoting his latest book, There's Something in the Woods, all over the radio and at conferences on both sides of the Atlantic in the new year:
KRFE 580AM Radio – Jan. 11, 2009
Shadow Talk Paranormal Radio – Jan. 21, 2009
Dimension X – January 31, 2009
Encounters Paranormal Radio – Mar. 29, 2009
White Noise Paranormal Radio – April 10, 2009
Beyond Reality Conference, New Hampshire – April 24-27, 2009
Lights Out Radio – May 18, 2009
Haunted America Conference, Decatur, Illinois – June 19-20, 2009
Mysteries of the Universe Conference, Kansas City – July 16-18, 2009
Weird Weekend, England – August 14, 15 & 16, 2009
Weird '09, Warminster, England – August 28 & 29, 2009
And on Jan. 16, he'll be in Houston being interviewed for an episode of the History Channel's UFO Hunters, where he'll put on a different hat for his appearance as "Nick Redfern, author of On the Trail of the Saucer Spies."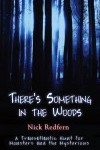 There is probably no more thoughtful commentator on all matters fortean these days than Jerome Clark. Yes, he has some nice things to say in the latest issue of Fate magazine about Nick Redfern's latest book, There's Something in the Woods. "Part of Something's appeal is its can-you-top-this quality," writes Clark, who finds more genuinely curious the reports Redfern collects "from persons who, to all appearances of sound mind and unforked tongue, speak of encounters with a range of incredibly peculiar creatures…everything from phantom peacocks to giant snakes with feet to flying humanoids to living pteranodons… Something certainly makes for entertaining reading, while occasioning at times some deeper refections on the reader's part." Including some from Jerome Clark, who ends the review with these insightful words: "I doubt firmly that the sorts of esoteric beasts Redfern's witnesses describe exist as hidden, uncatalogued wildlife alongside us in consensus reality, but they are present in some shadowy approximation, to be encountered in profoundly anomalous states of consciousness. In frustrating truth, the answers that we who are open to such things seek are well beyond current knowledge. In the meantime, ridicule is a very poor substitute for understanding."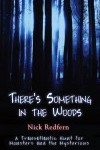 I've had the pleasure of editing several books by Nick Redfern since he moved to the United States in the summer of 2001. One of the books I edited while I was the editor-in-chief of Paraview Pocket Books was Nick's Three Men Seeking Monsters. That book not only stirred up a lot of interest by film producers, but marked the beginning of a series of further books all recounting his adventures in pursuit of monsters. I did not have the pleasure of working on the second volume, Memoirs of a Monster Hunter, which was published by New Page Book, but I'm back at the helm with his latest book in the series, There's Something in the Woods: A Transatlantic Hunt for Monsters and the Mysterious. What's in the woods, you ask? Bigfoot, for one. And Phantom black dogs. Werewolves, too. And giant mystery birds. Then toss in some haunted woods, spooky cemeteries, crop circles, and crashed UFOs, and you've got Nick Redfern's latest road trip across two continents for all things cryptozoological or otherwise mysterious. In this latest volume Redfern defies all the laws of self-preservation and offers himself as bait in the face of the unknown – to learn, if indeed, There's Something in the Woods. Enjoy.